All original GTK+ sample code in GTK+ distribution have been tested to run in Ch GTK+ toolkit.
Below is the screenshot for a sample GTK+ program. The source code and screenshots for additional examples can be found at
GTK+ demo code (click here)
The source code for these samples are included in the distribution of Ch-GTK+. They are readily to run in Ch without compilation.
To run the sample programs in Windows by clicking through Windows explorer, instead of under a Ch shell, you need to change the file extension of a program from .c to .ch.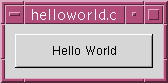 A plotting example using Ch GTK+ with plotting features in Ch has been posted at Ch Yahoo User Group.